HOME
Cattery of Siamese and Oriental cats Adamas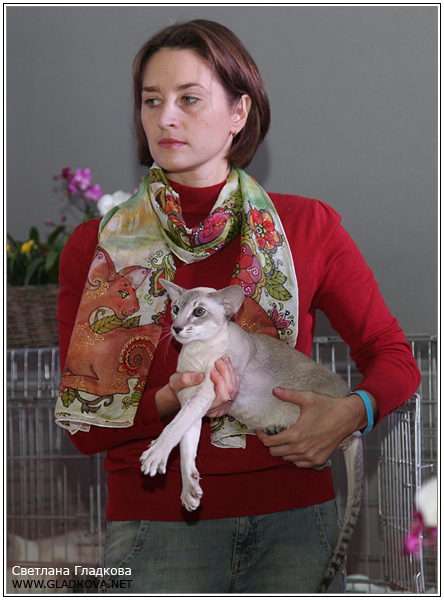 Welcome to our site! It collected a same of information about the wonderful cats, Oriental and Siamese, about their character, behavior and appearance. These cats are a breed group - Oriental Shorthair, and, like the majority of this group is very active, mobile, Addictive, loving and living. Appearance of bright and elegant.We, in our nursery, organize pedigree breeding Siamese and oriental cats and kittens are selling these rocks.
Oriental and Siamese - a cat with characters that look just like a dog. They are very attached to his master, feel the mood and are compassionate. They are great companions. External differences from the Siamese Orientals are in color and eye color. In one litter of kittens can be born of both breeds. They have a long slender body, very long legs and a tail. However, the main thing that attracts the eye and charms the sight of these cats - is their extremely large ears. Cats with short and do not have an undercoat, which reduces your problem hair on clothing and furniture.
If you made a decision and are ready to have a kitten - refer to our nursery.We do not restrict the movement of the animals in the apartment, they are not in cages, and live in our family (even sleep in our beds).All are regularly vaccinated, healthy and well fed. Our animals from birth interact with people and are perfectly adapted for life with a manin a city apartment or a country house.
Our cattery is registered in the International Feline Center "Felis"†and in our work, we strictly adhere to the rules felinological center.
Ogurtsova Galina
+автор ѕавел_